What The Independent said...
The Independent Review: Best Refillable Cleaning Products
Many of us start off the year with positive intentions and on the search for ways to introduce good habits into our lives. One simple way to do this, and show the environment some love, is to switch to refillable cleaning products.
After all, UK households use over 70 million cleaning sprays every year, which generates more than 140 million pieces of plastic. Not to mention the bleach bottles, toilet cleaners and other numerous plastic bottles cluttering cupboards up and down the country.
Switching to cleaning refills is not only great for reducing single-use plastic packaging, but it can also work out cheaper (depending on the brand and product) and be more aesthetically pleasing. Also, as well as reducing the amount of throwaway plastic packaging, many home cleaning brands that offer refills naturally have a focus on non-toxic and environmentally friendly ingredients.
From signing up to subscription-based models to taking empties down to a local refill station, there are a number of ways to switch to refills. As well as ready-to-use liquid options, some brands sell concentrated solutions, soluble sachets or pods that just need mixing with water, or even offer the product in the form of a dissolvable sheet or tablet.
We think it's great that there are so many options available now, but it can get a bit confusing. So, with that in mind, and with Earth Day just around the corner on 22 April, we've refilled, squirted and scrubbed our way through a range of cleaning products designed to make your home shine, to see which deserve a spot in the cupboard under the sink.
How we tested
As well as looking for cleaning products that offer refill options, there were a number of other factors that we took into consideration: price, accessibility, ease of refilling, product range, the overall aesthetic of the containers and of course, whether the cleaning products actually worked. We spritzed windows, mirrors, bathtubs, kitchen counters, toilets and anything else that needed a clean, and tested the products out over a couple of months to get a real feel for how they performed.
Melior refill starter bundle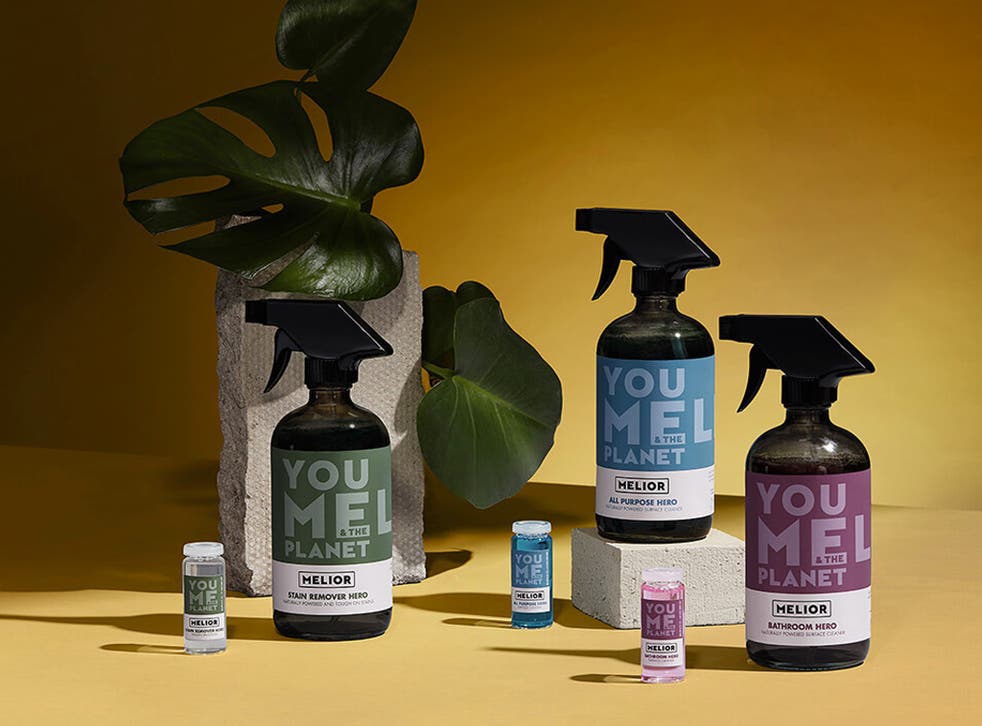 Best: For ethos
Rating: 8/10
Launched during the Covid-19 pandemic, Hackney-based social enterprise Melior, was created to produce products that are kind to the environment and to bring opportunities to unemployed people who are visually impaired or have disabilities. Founded by Diane Cheung, Melior (which means "better" in Latin) is a closed-loop small business with a strong focus on zero waste and tackling injustices against people with disabilities.
There are three core full-size products on offer: an all-purpose cleaner, a bathroom cleaner and a stain remover hero. Upon opening the cardboard box which our products were posted over in, we were surprised to find that instead of packing peanuts, the glass bottles were protected by popcorn. Yes, actual popcorn. It's yet another sign of how Melior do things in their own way, and we're big fans.
Getting started is simple: just pour one of the 25ml refills into a glass bottle and top up with 425ml of water. We were impressed by the effectiveness of the products and especially liked the stain remover hero. In fact, we're not the only ones: Melior's enzyme formulations are used in the Houses of Parliament, Hotel de Paris, Monaco and in the Burj Khalifa in Dubai.